Create your content once and distribute
it
to as many channels as possible
!
We've all heard one version or another of this statement. Creating the same content, shaped for different platforms, is error–prone and time–consuming. All too often, the tools supposed to help us write once, publish everywhere, don't focus on that as a key feature. They quickly become burdened with tons of additional features and increased complexity, requiring us to revert to manually dealing with our various communication platforms.
Organizations today inevitably end up with multiple channels of distribution, not everyone in your organization consumes content the same way. We are dealing with multigenerational workplaces with varying degrees of digital literacy and a range of device preferences. Most large organizations today rely on Email, their Intranet, and potentially Mobile Apps to communicate with their employees. These channels are usually siloed with separate analytics (if any) that make for a challenge when communications professionals try to get a good understanding of how content is being consumed. Analytics should be feeding the virtuous circle of improving content and delivery, driving up engagement, which feeds the analytics, which helps improve the content and delivery.  
At Sparrow, we strive to make your life easier. We have the communications professional at the center of our universe, understanding the different ways they need to reach out to all of their communication ecosystem. With Sparrow, you can create your content once and have it published automatically by our platform into many different channels, including:
Email

Intranet

Mobile Apps

Microsoft Teams
What's more, posts can be marked as must-read (mandatory), targeted to select audiences, be in multiple languages, and more.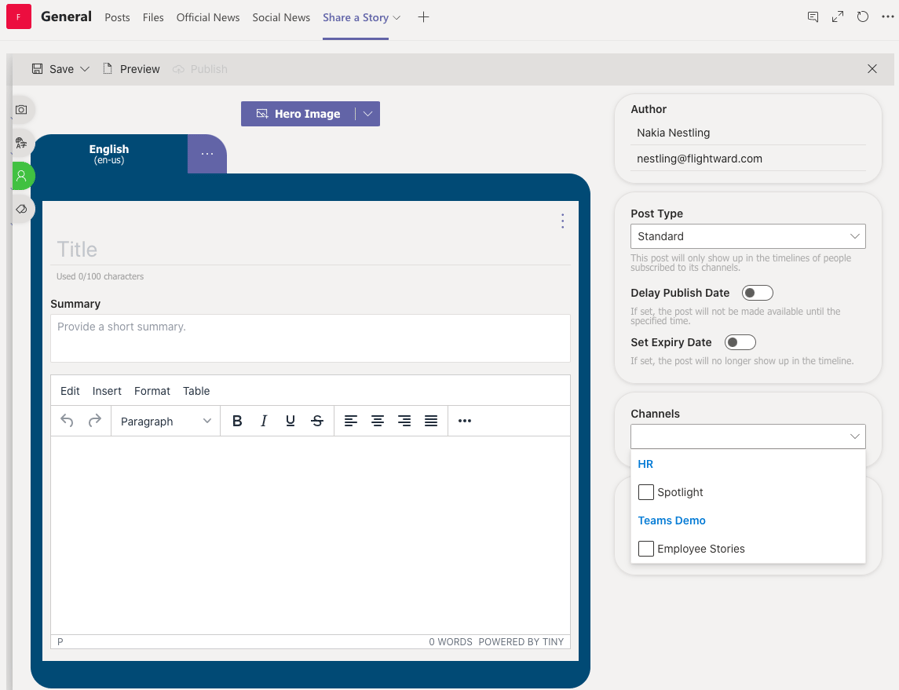 Quick, easy, and flexible. You focus on creating your content in one place and leave the nuisances of distribution and scheduling to Sparrow. Want the post to be published later? We have delayed publishing. Need to ensure people explicitly click a box to say they have understood that policy update? We've got that too. Want to reuse a post from a few weeks ago? Clone it with a click of a button. Need only the leadership team to see it, or maybe new employees? Set the audience to exactly who needs to see it. Sparrow will help you get the right message to the right people at the right time.
If we already have other systems in place, can Sparrow work with those?
Yes. We understand organizations have made significant investments in other tools, and replacing them is not easy. That's why we have built Sparrow with the hooks to integrate our platform with your existing tools.
Do you have an Intranet that you would like to keep? That's great; let's integrate. This can allow your organization to take advantage of our mobile apps and Sparrow for Microsoft Teams while continuing to use your Intranet.
With Sparrow, you decide which components you deploy. For example, you can trial our platform by adding the power of corporate communications on the Microsoft Teams platform and deploy our Intranet, Intelligent Newsletter, and Mobile Apps at a later time. The choice is yours!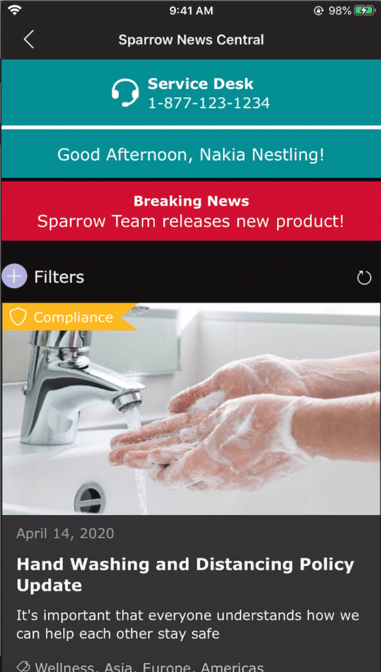 Analytics for the data scientist in you
There has been a push in recent years for internal communication to provide concrete measurements, "Where are the numbers?" Sparrow has a comprehensive analytics module that helps you understand how the content you are producing is being consumed by the organization. Our analytics start with the content itself by providing you with detailed metrics on the readability, grade level, length, as well as the number of unique opens, complete reads, and more. Stay tuned, as we'll be writing more about this in an upcoming article.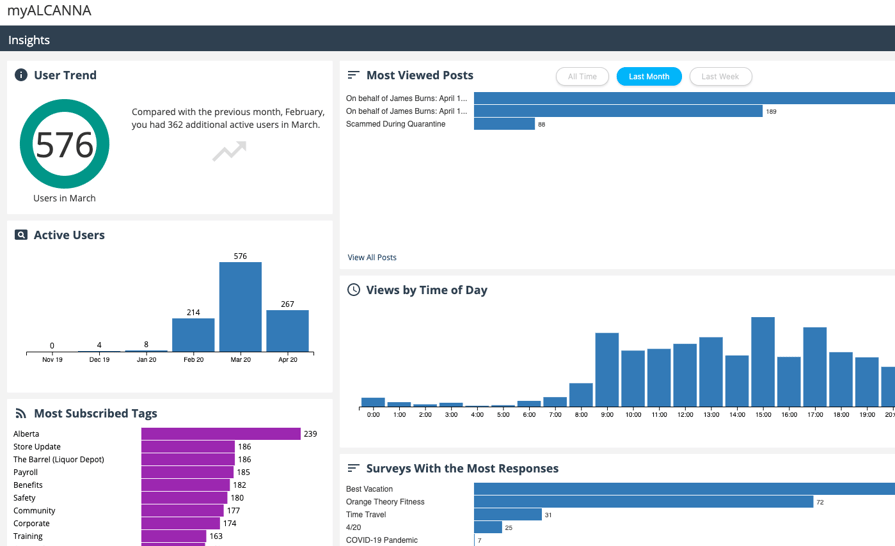 When it comes to "Write it once, publish it across all the channels," think Sparrow.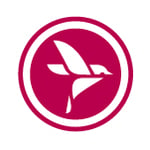 At Sparrow, we believe that focused corporate communications can be transformative. Instead of a collection of broken tools that do not work together, corporate communications should have the same power that your marketing team does. Corporate Communications should be able to reach the right employees, with the right message, on whatever platform they are using, and be able to measure every interaction. We believe that it is time to change the world of corporate communications with a true corporate communications platform that understands what it means to be a communicator.
Book a conversation with us today. "[Sparrow] has proven invaluable…" – Corporate Communications, Hamilton Health Sciences
---
Want to learn more? Let's connect!