I recently attended a Gallup webinar that explored the findings of Gallup's State of the Global Workplace: 2022 Report which captures the voice of the global employee on topics including employee engagement, wellbeing, stress, worry and more.
The insights in the report and the webinar discussion are meant to equip leaders to make purposeful decisions based on how employees around the world are truly feeling.
There were two key topics that were very eye-opening for me.
1. Global Engagement & Wellbeing Remain Stable, But Not Great.
Before the pandemic, engagement and wellbeing were rising globally for nearly a decade -- but now, they're stagnant.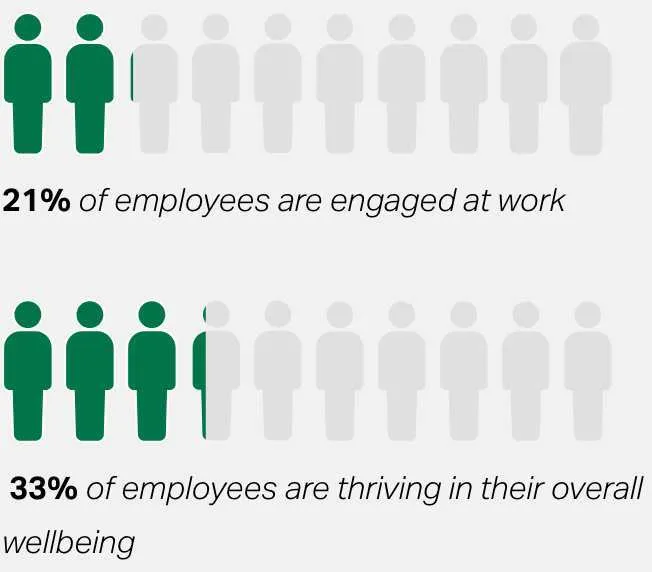 "Living for the weekend," "watching the clock tick," "work is just a paycheck." These are the mantras of most global workers. With only 21% of employees engaged at work and 33% of employees thriving in their overall wellbeing, most would say that they don't find their work meaningful, don't think their lives are going well or don't feel hopeful about their future.
2. Stress Among The World's Workers Reached An All-Time High -- Again
Whether employees are stressed because of work, or their stress is carrying over into work, one thing is clear: The world's employees are feeling even more stressed than they did in 2020 (the previous all-time high).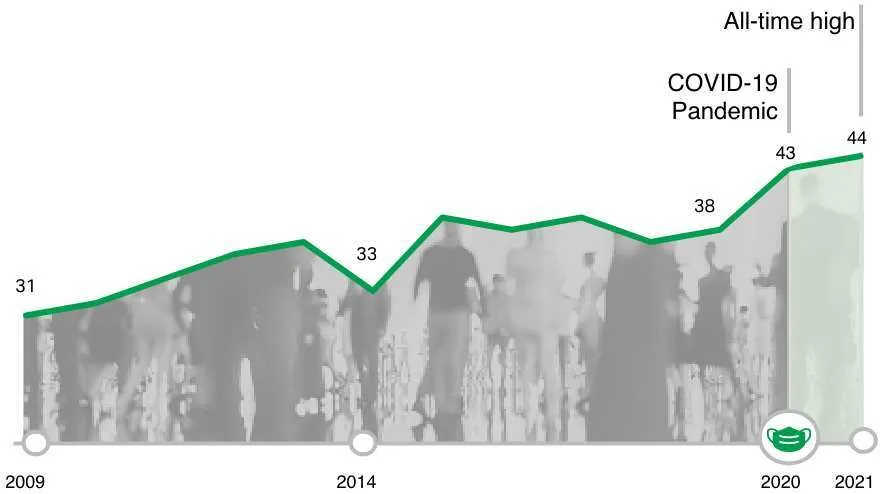 Forty-four percent of employees experienced a lot of daily stress in the previous day. While almost half of the world's workers felt the burden of stress, working women in the U.S. and Canada region were among the most stressed employees globally.
Source: Gallup, State of the Global Workplace: 2022 Report
The message is clear: employees are disengaged and stressed out.

But, why does this matter to internal communications professionals?
As an internal communications professional, you may be wondering what low employee engagement and high employee stress mean to you and your role. The way I see it, the current state of today's workforce means that, as a diverse, global community of smart, talented internal communications professionals:
We can't keep doing what we've been doing.

Employee engagement has been a key focus for many organizations in recent years, but despite that, employee engagement isn't improving. It's time for a change. Do we need to take a different approach to employee engagement that isn't just an annual survey? What can we do instead?
We have an opportunity.

An opportunity to affect real change in our organizations and the lives of employees by stepping up and sharing new ideas and strategies with our leadership teams. How can you show your leadership that internal comms is a strategic function that can help improve employee engagement and well-being?
We need to collaborate more.

Collaborate more within our organizations – with leadership, HR, marketing, operations, etc. - and with one another to share ideas and work together to improve the state of the global workforce. What would happen if you got together with other departments to come up with solutions together?
We deserve better tools.

It's time to stop using tools that weren't meant for global workforce communications. We deserve a platform that is designed to reach each and every employee with the right content on the channels they're already using, in their own time zone, and in their own language. Do you have the right solution to communicate with employees?

While it's definitely not good to see that the global workforce is generally disengaged and stressed out, it may be the motivation companies need to stop, think and start acting differently. The way people work has changed dramatically over the last couple of years, organizations need to start meeting employees' needs as they are today. Only then will we see the state of the global workforce start to really improve.
I'll leave you with Mahatma Gandhi's famous quote, "Be the change you wish to see in the world."
What's Next:
---
Book a demo!