Not long ago the primary role of internal communication professionals was to write memos, publications, presentations and the annual report. That was in the 1980's when business focused on employee satisfaction determined by pay and benefits as a key business indicator. Then in the 1990's employee engagement shoved employee satisfaction aside to become a key business indicator.
Employee engagement laid mostly in the domain of Human Resources until the 2010's when it became increasingly obvious that loyalty was driven by a number of factors with relationships at the core of everything. Relationships and a feeling of belonging and value hinge on great internal communication. Clear, consistent, concise, relevant and timely communication became best practice standards.
But now it's 2017 and we've moved on again to employee advocacy, enabled by technology. The lines continue to blur between personal and corporate communication. Now more than ever, mobile technology makes it possible to connect all employees and enable them to share success stories with their social network. Mobile technology brings employee communication to a whole new level.
Who's using Smartphones?
Apple released the first iPhone a decade ago, heralding a new age of technology that revolutionized the way we communicate with each other, gather and share information, and spend our professional and leisure time. In February of this year, Business Insider published an article based on research conducted by the mobile ad firm, Zenith. The report said, "Global smartphone penetration is driving up mobile as the primary mode of accessing the internet. The firm projects that at the current rate of growth, mobile devices will account for 75% of all internet use in 2017 globally and 79% in 2018."
The workforce is changing
Over the last decade the workplace has evolved, offering a more diverse job structure. Remote employees are quickly becoming the norm. Employees are telecommuting with a more flexible schedule. In addition, mobile workplaces mean that field workers are required to return to the office less often.
This new normal makes it more difficult for internal communication teams to reach their employees through traditional media such as newsletters, intranets, posters, or bulletin boards.
Evolving expectations
Expectations for information have changed significantly. Today, we want to be instantly notified when new, relevant information is available on a device that is highly personal, always on and only an arm's length away. Smartphones have trained us to expect a level of engagement like never before.
The new communication expectation:
Personalized: I decide which information reaches me and how
Timely: I'm notified of new, relevant information, when I want to receive it
Accessible: Phone is always on, within arm's reach thus I am always connected
While the tide is turning, internal communication teams have been slow to catch up with audience needs and expectations. This dynamic is partly grounded in the fact that the discipline, itself is still working to gain recognition as a key business driver. The value of internal communication and its ability to influence employee engagement and enable social advocacy is still a relatively new concept.
Make no mistake. To meet the best practice standards of internal communication, the company must reach all audiences with clear, consistent, relevant, communication. Against a backdrop of a changing world force, mobile technology is quickly becoming a primary internal communication channel. And, an app that can integrate channels, offer choice and social interaction options while collecting data that informs strategic planning is an idea whose time has come.
Introducing Sparrow
Sparrow was an experiment. DevFacto Technologies built the Sparrow app for its employees, to create better connections in the workplace and improve internal communication. Since then, Sparrow has come a long way. Today it is a sophisticated internal communication app that empowers organizations to leverage mobile devices as a way to reach all employees and deliver business critical information.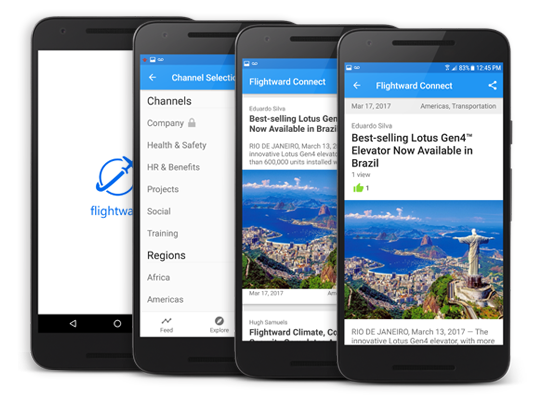 Sparrow delivers targeted messages in an easy-to-use app for a variety of mobile devices. Employees receive relevant news, when they want it, on the device they use most. Sophisticated analytics provide value to communications, operations, compliance and other departments. Sparrow integrates with existing communication channels ensuring little to no extra effort is required on the part of communication professionals.
As for supporting relationship building and employee advocacy, things just got a whole lot easier.
For more information on Sparrow and how it can help your organization leverage the mobile opportunity, visit the website at www.sparrowconnected.com
---
Want to learn more? Let's connect!